Why You Need A
Car Accident Lawyer
On Your Side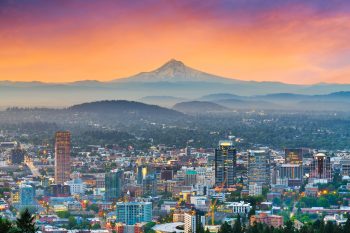 At Lakepoint Law Firm, near Stayton, Oregon, our experienced personal injury attorneys help our clients receive the financial compensation they deserve and provide the support they need during the recovery process. If you are the victim of an auto accident, you may be entitled to compensation for property damage, medical bills, lost wages, and pain and suffering. It is important to have an accident attorney who understands where to look for coverage and recovery. Let our personal injury law firm help you navigate this complex legal system. We do everything we can to protect our client's rights by offering the professional legal representation that gets results.
Passenger Claims Against Drivers
Passengers involved in a car accident can get stuck in the middle of the "insurance coverage blame game." This occurs when there is an accident, and the insurance companies for the involved parties do not want to accept responsibility – leaving the passengers with a big headache. We handle these types of cases regularly. Don't let the insurance companies bounce you back and forth on who should compensate you for your injuries.
Passenger injuries can also occur from a single-car accident. This situation typically occurs when there is a rollover crash or when the driver loses control and crashes into something like a telephone pole or a roadside barrier. In any of these events, the passenger is entitled to recover against the driver for their loss. Our accident attorneys are here to help you in either case.
What Is
Personal Injury Protection
In Oregon?
In Oregon, your auto insurance provider is required to pay medical bills and certain other living expenses such as ongoing lost wages, medication, and in-home assistance care while you are recovering from a motor vehicle accident, regardless of who is at fault. This "no-fault" coverage is known as Personal Injury Protection or (PIP). Money paid for "reasonable and necessary" medical treatment under your "PIP" coverage is usually reimbursed to your insurer by the insurer for the driver at fault.
Only Reasonable and Necessary Medical Expenses Are Covered Under PIP
Your Oregon PIP insurance carrier is required to provide payment of all reasonable medical expenses related to your accident that incurred within the first year following your accident up to your policy limits (usually $15K but can be higher). However, an insurer will deny any medical costs that it believes are excessive or not related to the accident. To get the evidence they need to deny a medical service, an insurer will send you to an insurance company doctor for a so-called "Independent Medical Examination." Sadly, these doctors are rarely impartial or independent. Most insurance doctors will say that your treatment is unnecessary, which explains why insurers use their own doctors rather than yours. Working with an experienced auto accident attorney in Stayton will help you avoid these problems and ensure fair treatment and compensation.
What To Do After A Car Accident
Get the names and contact information of the other drivers as well as their insurance carrier's name, the policy number, and the license plate of their vehicle.
Photograph the scene of the accident and get pictures of all the damage for all the vehicles involved.
You must fill out a DMV accident report within 72 hours of the accident, or you could face suspension of your driver's license.
Call your own auto insurance carrier to report the accident and request an application to fill out so your medical expenses and wage loss can be paid.
If your injuries incurred in the accident are visible, take photos of your cuts, bruises, abrasions, etc.. and continue to take photos as they visibly change.
Keep a diary or log of your symptoms and how they change over time. Make sure you tell your doctor about all of your symptoms, not just the most severe ones. Some injuries can result in a gradual onset of symptoms that eventually require treatment. The earlier the doctor can document these problems, the easier it will be to get medical treatment down the road.
How Does An Auto Insurance Claim Work?
Bodily Injury Claims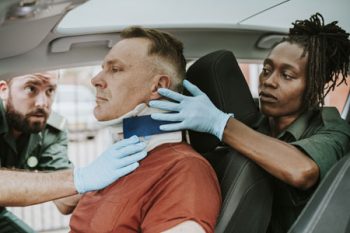 Being injured in a car-related accident can result in serious bodily injuries ranging from whiplash to broken bones and concussions. These types of injuries not only cause immediate pain but can cost those involved small fortunes. We are here to help you with your situation and ensure that you get what is legally entitled to you. In most cases, we can get your medical bills paid and receive compensation for lost wages, pain, and suffering due to the injuries. If you have been injured, whether it was on-the-job or related to workers' compensation, contact one of our trusted lawyers at Lakepoint Law immediately so we can take proper legal action!
Insurance Claims
Have you been in an accident and need to file an insurance claim? Is your insurance company refusing to pay? Look no further as we excel at handling all your car accident-related claims. We will work with your insurance provider to ensure that you have professional legal representation and get your maximum compensation. Don't let the insurance company lure you into not paying the full amount you're entitled to.
Property Damage Claims
After a car accident, you might be left wondering how to pay for the damages to your car or how to get the party responsible to pay for the damages they caused. Don't worry, as we will help you break down the situation and give you the proper legal representation needed to ensure that you get compensated for all damages inflicted upon you and your vehicle. If the other party is deemed responsible for the accident, you are legally entitled to full compensation for all damages and costs involved in losing your vehicle. Give us a call as soon as possible so we can get to work on your property damage claims.
Contact An
Auto Accident Lawyer
Today!
At Lakepoint Law Firm, near Stayton, Oregon, Jean Fischer, and her legal team work hard to help their clients with every type of accident claim. Our goal is to provide you with the professional and emotional support that is needed after a motor vehicle accident. We have extensive knowledge and experience in personal injury law and are here to offer you the best legal advice regarding auto accidents. Our aggressive approach protects your rights and ensures fair compensation. When you need an experienced attorney on your side, give us a call!