No one wants to get into a car accident. But if you, unfortunately, find yourself involved in one, it is important to know who is liable and what you should expect. As your local and experienced car accident attorney, we will clarify some questions surrounding the liability following a car accident.
This blog will explore the different factors that can affect liability in a car accident so that you can be prepared in the event that you are ever involved in one.
What Does "Fault" Mean?
When it comes to car accidents, the fault is determined by negligence. Negligence occurs when a driver does something (or fails to do something) that causes an accident. Common examples of driver negligence include:
Speeding
Failure to yield
Running a red light/stop sign
Texting while driving
Rear-ending another vehicle
Driving Under the Influence
If, following a car accident, there are any car accident-related insurance claims or any injury lawsuits, the driver who was determined "negligent" will be the at-fault driver and will be liable for damages, etc.
Why Is It Important?
One of the most important aspects of any car accident is determining who is at fault. This can be a complex process, as there are many factors that come into play. However, determining fault is essential, as it can have a significant impact on insurance premiums and liability in the event of an accident lawsuit. In many cases, the amount of damage caused by an accident is directly related to who is found to be at fault. As a result, it is important to take the time to carefully investigate all aspects of an accident before making a determination. By understanding the role that each party played in causing an accident, it is possible to make a more informed decision about who is ultimately responsible.
If you are involved in an accident that was caused by another driver's negligence, you may be entitled to compensation for your damages. In order to receive your rightful compensation for loss, you will need to file an accident claim with the other driver's insurance company. If the insurance provider denies your claim or offers a low settlement, you may need to file a personal injury lawsuit. An experienced auto accident attorney can help you navigate the claims process and ensure that you receive the fair compensation that you are entitled to.
How Is Fault Proven/Determined?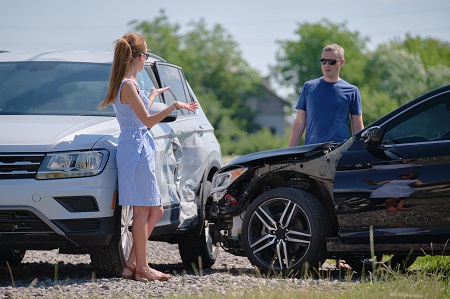 There are a number of ways that fault can be proven or determined in an auto accident case. One is through the use of evidence such as eyewitness testimony, video footage, or photographs. Another is through the use of expert testimony, which can help to establish what happened and who was at fault. In some cases, fault may also be determined through the use of police reports or other official documents. Ultimately, it is up to the court or jury to determine who was at fault in an accident.
What Will Insurance Cover If You Are At Fault?
Insurance policies safeguard policyholders from having to pay out of pocket for damages and auto accident injuries. If you are at fault for a car accident, your insurance company will help cover the cost of any insurance claims filed against you up to your policy limit. This may include the cost of medical care for any injuries suffered by the other party, as well as property damage to their vehicle. In some cases, the insurance provider may also cover the cost of a rental car while the other party's vehicle is being repaired. If the accident was caused by the negligent actions of another driver, their insurance company will be responsible for covering these costs. Ultimately, it is important to review your insurance policy to determine what coverage you have in case you are involved in a car accident. With that said, If you're involved in an accident, it's important to seek legal advice from an experienced attorney to understand your rights and options. They can help you navigate the insurance claims process and ensure that you receive the financial compensation you deserve.
Will Your Insurance Go Up If You Are at Fault for a Car Accident?
If you're involved in a motor vehicle accident, one of the first things you'll need to do is file an insurance claim. And, depending on who is determined to be at fault for the accident, your rates may or may not go up. If you're found to be at fault (negligent party), your insurance company may choose to non-renew your policy, or they may increase your rates. But, if the other party is deemed to be at fault, their insurance company will be responsible for any damages. So, if you're involved in an accident, be sure to speak with your insurance agent to determine how it will affect your rates.
Your Local Personal Injury Law Firm
At Lakepoint Law Firm, Jean Fischer and her legal team understand how difficult it can be to deal with the aftermath of an accident. Whether you were injured in a car crash or a slip and fall at work, you may be facing a long road to recovery. In addition to the physical pain, you may also be dealing with emotional trauma and financial stress. Our experienced team of personal injury attorneys is here to help. We will work tirelessly to ensure that you receive the maximum compensation you deserve for your injuries. We will also provide the support and guidance you need to navigate the legal process and get your life back on track.
If you have been involved in any type of accident, contact us today to schedule a free consultation.
Other quality services we provide:
Bicycle Accidents
Car-Related Accidents
Personal Injury Attorney
Workers Compensation Attorney
On the Job Accident Attorney
And More
Visit our About Us page for more information about our accident law firm.